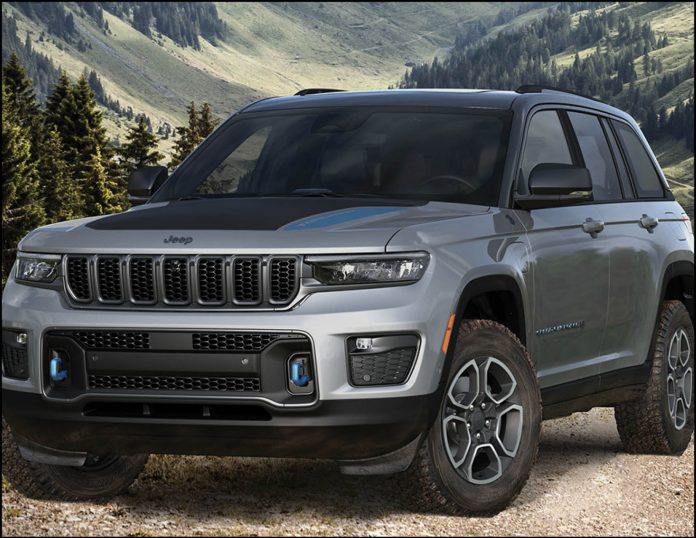 Review by Veeno Dewan
For 2023, big news on the Jeep Grand Cherokee front is the high off-road performance Trailhawk version will only be offered as an electric plug-in hybrid powertrain format. Stellantis, Jeeps parent company has made no secret that it intends to have 50 percent of its sales to come from battery-powered electric vehicles by the end of the decade, so this is push on that front.
Jeep's new 2023 Grand Cherokee Trailhawk 4xe plug-in hybrid. combines its potent turbocharged 2.0-liter I-4 engine with an electric drive motor to produce a combined 375 hp and 470 lb-ft of torque. The gasoline engine itself pumps out 270 hp and 295 lb-ft of torque while the electric traction motor is good for another 134 hp and 195 lb-ft. A 17.3 kWh lithium-ion battery provides about 42-50 Kms of pure all-electric driving according to conditions and driver inputs. An eight-speed automatic transmission is hooked up to legendary Jeep 4×4 hardware.
Jeep fand also do not have to worry how the new hybrid powerplant affects off-road performance. The 4xe powertrain is fully capable and is able to operate solely on EV battery power without the need for the gas engine. (Until the battery runs out that is!) The Trailhawk offers off-road tires, raised air-lift suspension and a disconnecting sway bar. The 4xe model has an electric charge port atop the left front fender and a few cool details, such as winch mounts, tow hooks, distinct blue accented badging, and graphics packages.
The cabin features easy access and great visibility. It a fine luxury orientated cabin with sleek details and a neat premium fee land look. There is also a generous amount of cabin space and occupant room, but alas no third row seats. Quality is good all around in terms of design, materials, fit and finish. Passengers will appreciate the generous legroom and luxury touches. Blue contrast colour adorns the stitching on the seats and the dash. The seats arrive both heated and cooled up font. In addition, there is a heated steering wheel, dual-zone climate control, 8.4-inch UConnect infotainment display with wireless CarPlay and Android Auto. I do not know why other manufacturers adopt a version of the excellent Stellantis/Jeep's Uconnect infotainment system. Its bright, with crisp graphics, so easy to use. That display is paired with a crisp digital gauge cluster which can be adjusted to display either a traditional speedo/tack set-up, or any number of navigation map or infotainment configurations. Option on our tester included different packagers offering such features as: Surround view camera. Park sense, front and Rear park assist, Night vision camera. 2nd row manual window shades. Passive entry with Remote and hands-free power liftgate plus CommandView dual pane panoramic sunroof and the larger U-Connect five navigation system with a larger 10.1-inch display.
The 4WD system controls offer rock, sand and mud, snow, auto and sport modes plus ride height controls activated via toggle switches, while 4WD low, sway bar disconnect and crawl control are all accessed via a single button press. The 8-speed automatic transmission is controlled via a dial wheel which some purist may not like but works well enough for me.
There are three entirely different drivetrain modes on the hybrid "4xe: Hybrid, e-Save and Electric. Hybrid mode decides automatically when to switch between the electric motor, battery and the 2.0L gas engine. Electric mode runs on pure battery power up to a claimed 42 km. The e-Save mode ensures that the battery charge remains at a constant reserve. And of course, there is regenerative braking to also help with electric power production. Charging can be done by either a Level 1 or II charger,
On the road, the turbo four engine has to haul around a hefty 2,150 kg and sounds like it has to work hard once it kicks in. Electric takeoff is fast and smooth as expected. However, the gas engine is a tad loud and rough in contrast. Handling is good and neutral with nicely weighted steering and tracking. If you save the EV mode when you hit the trails, drivers are rewarded by the handy boost from the electric motors that aids in exuberant off-road hill ascent performance as the instant torque aids in quick bursts of power on climbing steep grades.
Jeeps tough rugged four-wheel drive system and assorted traversing aids means its no "soft roader."
Also note, the hybrid tows only around 6,000 pounds, not the 7,200 of the bigger gas engine models. In summing up, the Grand Cherokee Trailhawk 4xe remains all Jeep – no filler and proves Hybrid Jeeps are meant for business as usual. Highly recommended.
2023 Jeep Grand Cherokee Trailhawk 4xe: Base priced from $75,595. Priced as tested -$83 475 including options and destination.
More info at: jeep.ca