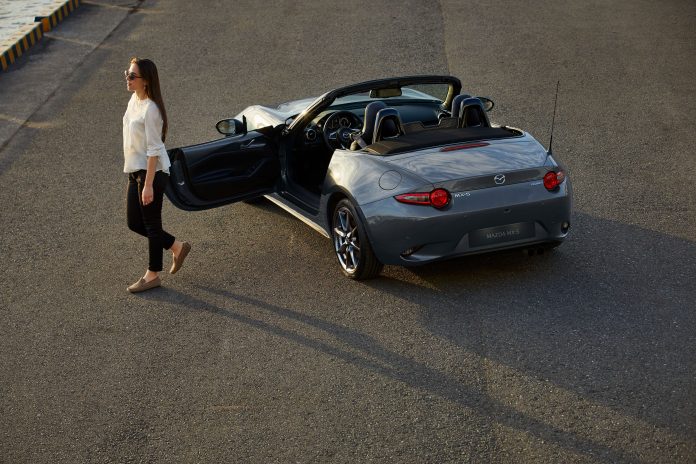 Auto review by Veeno Dewan
The world's bestselling roadster does not have many competitors under the $40,000 price point and continues to be the Apex predator  when it comes to  full on- road  open top fun. It is the ultimate affordable roadster. Not much new for  the 2023 Mazda MX-5 apart from  brake-based torque vectoring for the inside rear wheel on the base model.
The gorgeous two -seater comes in two versions  with a black soft top roof you can pull up or down with one hand. Or there is the extremely cool   RF (Retractable Fastback) version with a power hard top that opens with the push of a button in 13 seconds.
Power is courtesy of a 181 horsepower  SKYACTIVE 2.0-liter four-cylinder engine developing  7,000 rpm and 151 pound-feet of torque at 4,000 rpm. Maximum engine speed is 7,500 rpm and torque has been increased from low to high engine speeds, with faster response times for the engine. The transmission is either a six-speed manual gearbox or a six-speed automatic transmission available on all models. The  MX-5 range starts with the GS Model at $33,900,  GS-P at $37,900 and the top GT model at $41,300  plus destination and taxes. The Mazda MX-5 rf is the retractable hardtop version of the MX-5 and starts at $44,900 – $47,600.
The as tested GS-P soft top arrives in the convertible format with black cloth upholstery with grey stitching. Its speedy bits for the manual equipped version include : Bilstein sports  dampers, limited-slip differential, and front strut tower brace for better cornering and handling. We tested a 2023 Mazda MX-5 GSP with the six- speed manual transmission. Also added as part of the GS-P package was: Limited Slip Differential (LSD), LED headlights with signature lighting, LED Daytime Running Lights, and LED rear combination lights. Interior wise there is a: 7″ colour touchscreen display with Mazda noise compensation technology. Sound is handled by a 9-speaker Bose premium audio system with AM/FM/HD radio (including,  speakers and subwoofer in driver's and passenger's headrests) Heated seats (three settings), Heated exterior mirrors, and Noise-isolating windshield are also part of the package.
The optional Sport Package also adds performance Brembo front brakes, 17-inch forged BBS wheels, and sporty Recaro seats for the much- needed  grip and bolstering when cornering.
Two average-sized adults will feel snug and comfortable in the cozy cabin. The MX-5 interior highlights include simple legible gauges and well-designed ergonomic controls that remains true to its roots with the focus on being a driver's car. Interior storage is tight, this being a small narrow roadster – there are two removable cupholders, a small center console/arm rest and a cubby hole under the bottom of the center stack that can take a phone or wallet. Sadly, the trunk is miniscule at only 121L cargo capacity. Take soft squishy bags!
The driving experience is so pure in the MX-5, that even novice drivers can carve corners with precision and skill. The steering is light and very responsive with excellent feedback. It is the epitome of point and shoot driving. The formula is delightfully simple and works. Beautifully engineered handling, a rewarding six-speed manual and a responsive four-cylinder engine providing adequate power all works. Enough said. The six-speed manual transmission's clutch is weighty only to a point as to give the driver feedback while the shifter almost effortlessly "snicks" from one cog to another.
The sense of speed is what matters most in a Mazda MX-5. This is the Miata's greatest trick and always has been. experiencing thrust through the torque-rich power band (90% of all the torque is on tap between 2,000 and about 6,500 rpm) is addictive. The Performance Bilstein dampers and pumped up Brembo brakes add to the supple handling and confident, no fade braking.
Driving a Mazda MX-5 well requires some practice to obtain the skill and dexterity, and when done right, the satisfaction that flows through the driver is like a good buzz – this is what charms everyone. Fuel economy is rated at: 9.0 city; 6.6 highway. L/100 km
Downsides are few, the interior will be tight for the larger bodied. And there is little storage in this tiny car. The MX5-GS-P with the Sport Package is the ultimate combination for performance buyers, offering a an almost perfect factory-prepared track-ready car. Note, the Mazda MX5 GS-P is not a cheap option for what is an exceedingly small two- seater. Still, it is worth the money if  as a purist daily driving thrills are what you need – and it comes with a manual or automatic transmission so non-stick drivers will not miss out.. There is a reason the  MX-5 is the best-selling roadster in history- It's called FUN!
2023 Mazda MX-5 GSP MRSP Priced from $42,300 – 345,300.
Price as tested – $44,645.
Website: www.mazda.ca
2 Up to 6.6 L/100 km hwy1