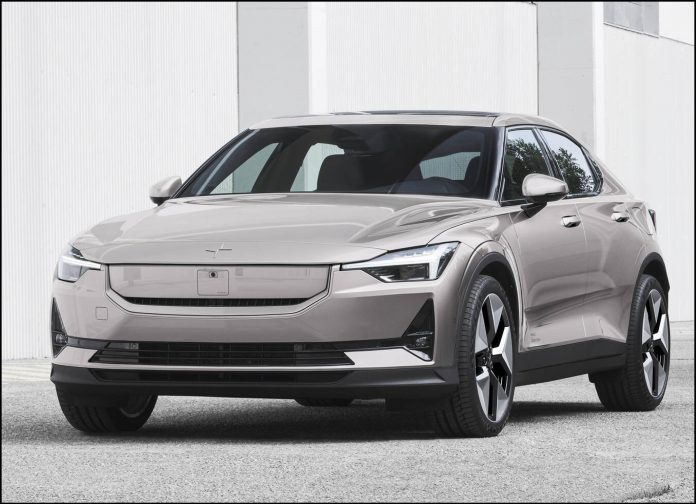 Review by Veeno Dewan
Polestar is an unfamiliar name to Canadians and is a standalone sub-brand of the Swedish Volvo and Chinese Geely auto out of China – who actually own Volvo. It is a premium brand competing with the likes of Tesla and Audi, with a focus on quality, performance, and cabin design.
We were lucky to gain a test drive in the new Polestar 2 Crossover, an arresting All- Electric fastback-style five door hatchback with hints of Volvo in the design language. There are the distinctive Volvoesque Thor's hammer-style LED daytime running lights and a high Volvo style tailgate. It looks fun and interesting.
For 2023, the Polestar 2 EV has slightly improved range for dual-motor models along with an upgraded heat pump for even better wintry weather performance. There is also more interior and exterior design options such as fresh paint colors, wheel designs, ventilated Nappa leather upholstery, Light Ash wood trim, removable sunshade for the panoramic glass roof, Advanced cabin filter and upgraded interior particulate matter sensor and new in-car apps.
There are two versions of the Polestar 2: the long-range single motor model, and the long-range dual motor model as evaluated. The single motor model features a 228 hp unit powering the front wheels with a driving range of 434 km of range. The dual-motor model features a combined 408 horsepower and all-wheel drive with very fast acceleration.
Both models feature a 78-kWh battery that allows 155 kW DC fast charging. Recharge times are good with the battery able to charge from 10 to 80 per cent in just 35 minutes. It takes eight hours to charge from empty to full using a 16-amp home setup.
Canadian pricing for the 2023 Polestar 2 Single Motor starts at $56,250, including the $2,300 destination fee. The Polestar 2 Dual Motor starts at $61,250, including the destination. Option packages for the single motor model include a Plus Pack for $5,700, which has an upgraded sound system, WeaveTech seats, energy-saving heat pump and a wireless phone charger. The upgraded $4,700 Pilot Pack adds some driver assistance features including adaptive cruise control, pilot assist, parking assistance and blind spot information monitoring.
The Performance Pack to the Dual Motor models offer increased horsepower bumping to 476 hp, along with flashy gold painted Brembo brake calipers, and special Öhlins Dual Flow Valve adjustable shock absorbers and gold cosmetic accents here and there.
The Polestar interior also smacks of high quality Scandicool Volvo. A fixed panoramic sunroof makes the light interior even more airy and there is a fairly roomy cabin overall. The front area features fully-electrically adjustable heated seats with lumbar support, a heated steering wheel, ambient lighting, wireless smartphone charging, and a gamut of tech features accessed by the 11-inch portrait touchscreen. There is the same neat, minimalist, Scandinavian style dash, with few hard controls or buttons. The touchscreen operates and adjusts most functions.
The Polestar is truly green too, and features eco technology such as recycled materials in interior textile surfaces. Technology is high with an Android based Automotive operating system, Google Play and Google Assistant integration and the 13-speaker Harman Kardon Premium sound system. The rear is well finished with comfortable seats and the Polestar offers 405 liters of cargo space, including the additional 41 liters under the false floor. cargo space in the trunk. Space expands to 1,070 litres when the rear seats are folded. The 2023 Polestar 2 is rated to tow 3,000 lbs.
On the road, the 2023 Polestar 2 has the typically intoxicating instant acceleration of all EVs from a standing start. The drive modes include a regenerative braking mode, which can be set to coast or maximise charge with one-pedal driving which is nicely calibrated. The steering is also well weighted and nicely progressive along with fine handling. There is good traction from the 4-wheel drive system when accelerating in all conditions. Suspension errs to soft although the Performance Pack equipped version with the bigger tires rides a little firmer. Suspension is helped in the Performance Pack equipped dual drive models thanks to the included includes the special Ohlins dampers that can be tuned to driver preference. Overall, there is a nice balanced feel to the Polestar 2 on the road. There are some downsides, its not super agile and the Dual motor model packages are pricy.
Still the Polestar is a premium hatchback that can stand against rivals such as the Tesla Model 3, Audi Q4 E-Tron, and Volkswagen ID.3. It can only get better. If you like Volvo's you will not be disappointed with the Polestar 2.
2023 Polestar2 Dual motor. Priced from $61,250 plus option packs.
More info at www.polestar.ca