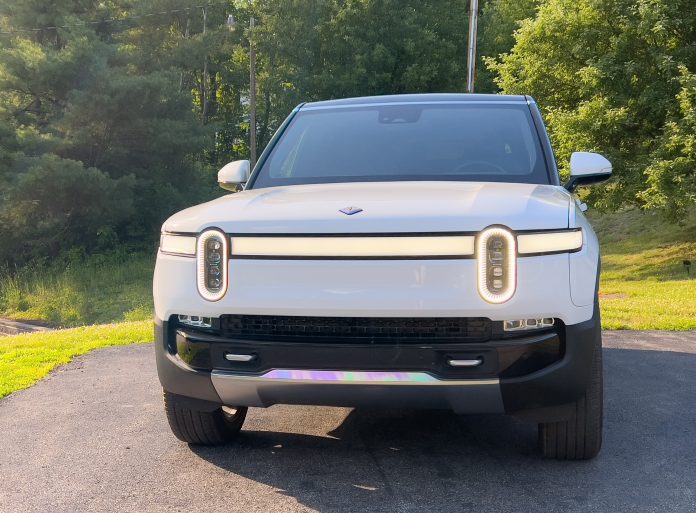 Preview by Veeno Dewan
Rivian, a new EV vehicle manufacturer based in Irving, California has started delivering its well received delivering R1 EV vehicles in British Columbia, the first outside the United States and the beginning of the company's international market expansion. Certified by Transport Canada for sale, deliveries of both the all-electric R1T pickup and R1S SUV will take place through the end of 2022 and ramp further in 2023.
Rivian celebrated this milestone with an Open House event in Vancouver on Saturday and Sunday, November 19 and 20—welcoming more than 1,500 local customers and their families for a first look at the company's flagship vehicles and the chance to interact with team members who work and live in the region.
During the two-day event at Vancouver's Rocky Mountaineer Station, visitors learned about the features and capabilities of Rivian's electric adventure vehicles, from the Gear Tunnel to Camp Mode, with expert guidance from the company's service and delivery teams.
"We're thrilled to begin deliveries in British Columbia, not just because it's a great place to use our products, but because many of our Canada-based employees working in software and customer engagement call Vancouver home," said Tony Caravano, Rivian's Senior Director of Customer Engagement. "We're looking forward to forming new relationships and celebrating as our customers in B.C. embark on their own R1 adventures."
Starting in British Columbia and expanding to other provinces over time, Rivian is dedicated to providing a comprehensive ownership experience for Canadian customers as it builds out its network of service centers in the country.
With over 150 employees in the Vancouver area, Rivian has established a strong and growing foothold in the region with a focus on building the software that powers the ownership experience from mobile app to in-vehicle systems. The company has engaged with local universities and educational institutions to create a robust co-op program, leaning on the region's status as a tech hub to shape the future of vehicle ownership.
The All electric powered 2023 Rivian R1S SUV is a premium luxury orientated vehicle with either five or seven seat configuration. Rivian's vehicles are the most distinguishable on the road now with a slightly retro-cool  design aesthetic.
The 2023 Rivian R1S  has a quad-motor all-wheel drive setup that enables four-wheel torque vectoring. Power equates to  a combined 835 hp and 908 lb-ft of torque. Recharging the Rivian R1S is supported via s 300 kW DC Fast Charging system that takes around  70 minutes to charge up a Rivian from 10-90 per cent using the correct charger. Completing the full charge on a Level 2 charger will take 12 hours or overnight.
Feature wise, the R1S has a number of clever ideas. There is an internally rechargeable 1,000 lumens of power flashlight  hidden inside the driver's door. and different brightness settings.  There's also a portable and removable Bluetooth speaker stored under the centre console and a   wireless phone charger that can charge two phones. The Rivian key is of unique carabiner clip design, and there is  phone-as-key support, and a  key card for your wallet, as well as waterproof   bracelet that can all be used to lock and unlock the Rivian. Another cool feature is the integrated air compressor ideal for low tire pressure or for recreational use.
The  R1S demonstrates versatility with its maximum towing  capacity of 7,700 lbs. a frunk with 311 litres of cargo space, while the rear cargo can accommodate  200 litres. The equipment spec is very high as befits the brands premium standing and there are a number of Rivian upgrades and options, including alternate wheels, paint color options  and off-road features.
Final pricing is to be official confirmed staring at  $94,000 for the entry-level Explore trim, and $101,250 for the Adventure trim. More information at www.rivian.com. (Sources Rivian press.)