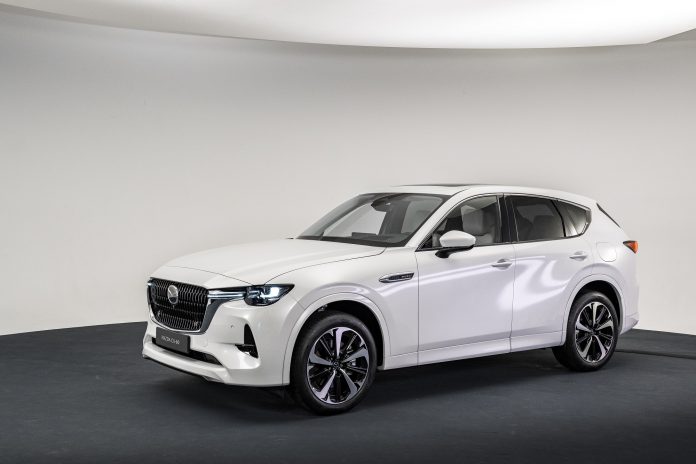 Review by Veeno Dewan
For 2024 Mazda Canada has introduced the Mazda CX-90 SUV. The large three-row crossover can seat eight occupants and represents the company's new flagship vehicle. For now, it is the only electrified three-row crossover on the market available. The body is designed to be sleek with crafted curves and a typical Mazda design language. Discreet  chrome trim is tasteful and spare. The CX-90 rides on available 21-inch diamond-cut wheels that feature a slick well integrated black metallic finish. It is features the typically sensuous, sculpted  sleek looking Mazda design language Mazda fans love so much.
There are three powertrains for buyers to choose from. The base CX-90   Turbo as tested has the  280-horsepower, turbocharged 3.3-liter inline six-cylinder engine with a 48-volt Mild-hybrid Boost and i-stop setup.
The PHEV (plug-in hybrid) model combines a 2.5-liter four-cylinder engine, an electric motor, and a 17.8-kilowatt-hour battery, for a total system output of 323 hp. The most powerful version is the Turbo S, which uses the same basic engine as the Turbo but bumped up to 340 hp, giving it the most horsepower and torque of any production engine from Mazda. All three versions put the power to the road through an eight-speed automatic transmission and all-wheel drive. The three-row SUV can be configured to carry six, seven, or eight occupants.
Mazda rates the CX-90 PHGEV can travel up to 42 km of pure electric range or you can cleverly "store" the charge for later use. Charging times for the battery come in at 1.3 hours on a Level 2 plug: and 6.4 hours via Level 1.
The 2024 Mazda CX-90 has  a starting entry -level MSRP of $45,900 to $63,300. The GS, DS-L and GT versions feature a   280 horsepower and 332 lb-ft torque. The higher spec GT  and top line Signature  versions offer a higher output engine: 319 horsepower and 369 lb-ft torque on 87-octane  and high-output engine: 340 horsepower and 369 lb-ft torque on 93-octane together with a 48v mild-hybrid system for more efficient performance.
The CX-90's cabin design has a luxury premium feel. High quality  materials, such as Nappa leather, wood, and tone-on-tone fabrics that all come together harmoniously. Top line Signature models have an even more premium look and feel with unique Japanese  Kumihimo stitching using negative space to create a unique design ethos. There is room for up to eight passengers. Opt for the second-row captain's chairs and the total seating drops to seven.
New, advanced technologies and amenities enhancements include such features as an optional  10.3- or larger 12.3-inch infotainment display controlled via a click wheel on the CX-90's center console, which is more intuitive to use, Apple CarPlay and Android Auto are both standard, The CX-90  offers a 12-speaker Bose premium stereo. available third-row USB-C charging ports, air conditioning vents, and upgraded interior lighting, are among  many more features.
The safety suite is good. Mazda CX-90 gets smart brake support front, blind spot monitoring, rear cross-traffic alert, adaptive cruise with stop and go, lane keep assist, and road departure protection standard across the board. Mazda has also introduced a new Driver Personalization System that uses cameras to ID your face and switch dozens of functions to your setting. Great for a family ride that sees multiple drivers.
On the road – ride and handling is stand out thanks to Mazda  Kinematic Posture Control, which suppresses body lift on tight corners to enhance the grip and allows all occupants to maintain a natural posture.
There's Normal, Sport, and Off-Road for drive modes, and of course EV Mode of you opt for the hybrid version in which Mazda that lets you either use the up-to-42-km of electric range; or store and accumulate it for on-demand use. Fuel ratings on the 70L tank are 9.9 L/100 km city; 8.7 highway; and 9.4 combined, or 4.2 Le/100 km with the battery working. The electric motor is placement between the engine and transmission unit , make a for well balanced handling and smooth upscale ride. The steering is responsive, and despite its size and weight, the CX-90 is fairly agile. Fuel ratings   are 9.9 L/100 km city; 8.7 highway; and 9.4 combined, or 4.2 Le/100 km with the battery in action. The CX-90 also has a good towing ability  at up to 5,000 lbs.
To sum up, the all-new 2024 CX 90 is an attractive proposition, with a PHEV version offering  decent fuel economy, all electric range for urban and city driving up to three rows of seats and eight seating capacity- what's not to love? A must buy if you need maximum people carrying ability and comes highly recommended.
2024  Mazda CX-90. Price as tested $65,945 with Options, Freight and PDE.
More info at www.mazda.ca