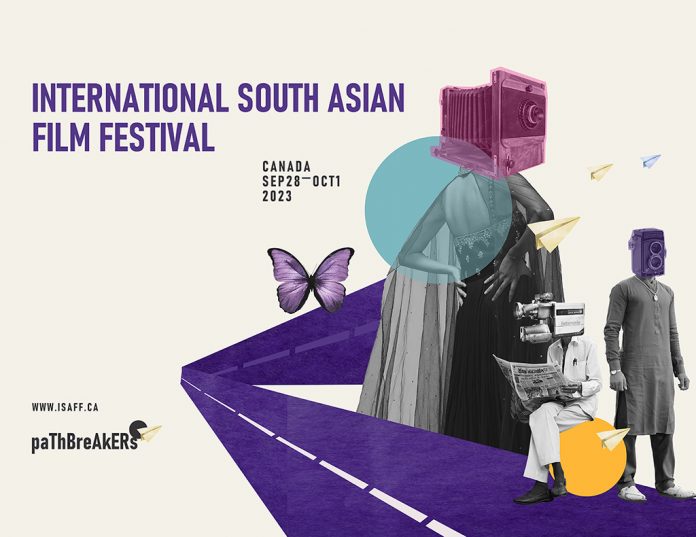 The vibrant world of South Asian cinema is set to take center stage at the upcoming International South Asian Film Festival (iSAFF), which runs from September 28th to October 1st in Surrey, BC, Canada.
With 'Pathbreakers' as this year's theme, iSAFF 2023 will showcase six feature films, four documentaries and over 30 short films, as well as dynamic industry events and innovative new initiatives.
"We're incredibly excited to present 'Pathbreakers' as our festival theme this year," said Pulkit Datta, iSAFF Artistic Director. "Our aim is to provide a platform for the voices and stories of South Asia and its diaspora to be enjoyed by the BC audience and beyond. Each film in our lineup offers a unique perspective from the massively diverse and complex South Asian communities, addressing contemporary issues, challenging the status quo, and flexing the artistic prowess of South Asian filmmakers. We look forward to celebrating the artists who have changed the game and will inspire future generations."
This year's festival includes lauded features from Cannes and TIFF, films and filmmakers nominated for Emmys and BAFTAs, a former Miss America, and Punjabi-Canadian film and music stars, among many others.
iSAFF's Opening Film kick off is on September 28th with LORD CURZON KI HAVELI, a directorial debut by actor Anshuman Jha, starring Arjun Mathur (Amazon Prime's Made in Heaven) and Rasika Dugal (Netflix's Delhi Crime and Amazon Prime's Mirzapur). Making its Canadian premiere, this dark comedy is about four South Asians in London who meet for a thoroughly unplanned dinner party that ends in chaos, and serves as commentary on the range of immigrant experiences in the UK. It is also the first mainstream Indian feature film to be shot on a single lens.
iSAFF 2023's exciting lineup also includes:
Special Closing Night Film
IN FLAMES: A Pakistani-Canadian supernatural thriller by Zarrar Kahn. In Flames is only the second Pakistani film to premiere at Cannes Film Festival. It is also screening at the 2023 Toronto International Film Festival in the Centerpiece programme.
PINE CONE: Trailblazing queer Indian filmmaker, Onir, brings his buzzy feature Pine Cone, starring Vidur Sethi, which also opened South Asia's largest queer film festival, Kashish.
THE LUNCHBOX: iSAFF is celebrating the 10th anniversary of Ritesh Batra's 2013 film The Lunchbox, with a special Q&A with the director. With an incredible leading performance from the late Irrfan Khan – co-starring Nimrat Kaur and Nawazuddin Siddiqui – The Lunchbox reached worldwide acclaim, leading to a nomination for Best Film Not in the English Language at the 2015 British Academy Film Awards (BAFTA).
CALL ME DANCER: Dancer Manish Chauhan's journey from Mumbai slums to the Kennedy Center stage is captured in this documentary that brought on global music star Jay Sean as the Executive Producer, and world premiered at Santa Barbara Film Fest.
COMPLEXION: An intimate dissection of colorism conceived by the first and only South Asian Miss America winner, Nina Davuluri.
AGAINST THE TIDE: Sarvnik Kaur's moving documentary, which won the Special Jury Prize at Sundance Film Festival, tells the story of Indigenous fishermen in Mumbai who are driven to desperation by a dying sea. The film takes a humanistic and intimate approach towards addressing key issues around climate change and rapid urban development.
YOUR LOVE: Queer non-binary writer, actor, activist, Sundeep Morrison makes their directorial debut with Your Love. A LGBTQ love story that is set to the backdrop of DJ Khanvict's remixed imaginings of iconic Punjabi folk song Ik Tera Pyaar, originally sung by Noor Jahan.
MY MOTHER'S GIRLFRIEND: Writer/Director Arun Fulara's award winning short film about finding love at any age, comes to iSAFF following a showing at OutFest.
TO THE DEATH: Written by and starring Menik Gooneratne (Lion) and Yasmin Kassim (Jungle) and directed by actor/director Rose McIver (Ghosts, iZombie). This darkly comedic short follows two actresses in the audition room, who might literally kill to get an upcoming role.
LEVELED: ReelWorld Institute Emerging Filmmaker, Sara Rangooni's sophomore short film Leveled comes to iSAFF this year.
STARCH: A short film by multi-disciplinary Australian writer/director, Ajai Vishwanath, and starring Gayatri Patel Bahl and Vandit Bhatt, is a rare and must-see Tamil diaspora story.
FOREIGNERS ONLY: Pioneering Bangladeshi filmmaker Nuhash Humayun's latest award-winning short is a horror commentary on the skin-based preference of landlords for foreigners in his home country.
iSAFF will also host a series of exciting events, including Q&A sessions with filmmakers and social media influencers, industry panels, workshops, and networking opportunities for attendees to engage with the creative minds behind these remarkable films.
"We've come such a long way, and this year is a big leap forward for us," says Mannu Sandhu, iSAFF Festival Producer. "Since 2010 we've been building this journey, and now with a new name and new goals, we're reaching even more hearts. At iSAFF 2023, our goal is simple: to light up screens with incredible stories and grow our community. Join us as we celebrate films, embrace a community of storytellers, and honour everyone pushing limits in their own ways. We're determined to make this year's festival unforgettable!"
iSAFF 2023 will take place from September 28th to October 1st.
Attend the Opening Gala on Friday, September 29th to celebrate all Pathbreakers and kick off iSAFF in style!
Tickets for the Gala can be purchased here:
https://tickets.surrey.ca/TheatreManager/1/login?event=2593