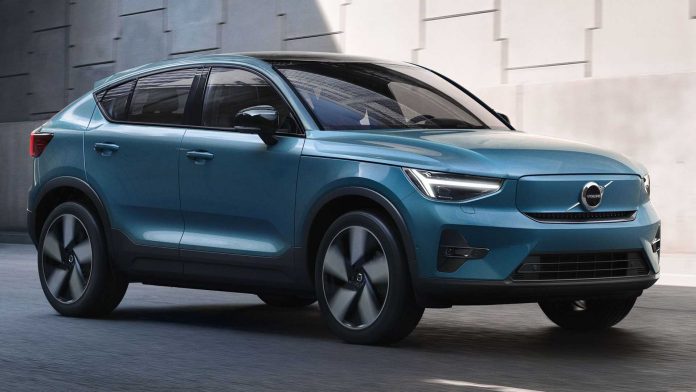 Review by Veeno Dewan
The new Volvo  C40 CUV is a new compact premium wholly electric powered crossover  almost identical to its sibling Volvo XC40 with  a few differences, such as the lower, more steeply rear angled roofline which enhances the sporty coupe-like profile. The C40s floating black roof and raised LED taillights also make it a tad racier looking than the XC40. The C40 sits on nice 20-inch wheels and has a high enough ground clearance for rough trails and light snow.
New ideas  for  the C40 include the first use of a substantial amount of recycled material in this particular Volvo. As well as being leather-free there is the  use of recycled plastics in the dash, seats, and front door  panels. Even the Fjord Blue floor carpeting, is 100 per cent made from recycled plastic PET (polyethylene terephthalate) bottles.
Also of note is the C40s' infotainment platform, which has been jointly developed with Google and is based on the Android Automotive operating system. Therefore, Google's   popular apps such as Google Maps, Google Assistant and Google Play Store are built-in and work seamlessly via the 9.3-inch main dashboard display and the 12.3-inch Digital Driver Display.
In terms of propulsion, the C40 uses Volvo's Recharge Twin P8 AWD electric powertrain, which produces and impressive 450 horsepower and 486 lb-ft of torque.  There are twin 150 kW motors at each axle for permanent all-wheel drive. Combined with the electric motors is a 78-kWh lithium-ion high-voltage battery and 11 kW on-board charger.
Torque can be split 50/50 front and rear  based on driving conditions. The transmission is a shift-by-wire single-speed unit.
With recent advances in battery technology, the C40's on board battery will support DC fast charging up to 150 kW, enabling a battery charge   from 10 to 80 per cent in about 33 minutes. A 220-volt level two home charger will charge the battery from zero to 100 per cent in about eight hours. On a full charge, the C40 has an estimated range of 360 km. Also note, Volvo Canada has partnered with ChargePoint and using their App   eliminates the need to swipe a card to unlock a charging station. If you want the fuel economy numbers for this all-Electric Vehicle; you are looking at; 2.5 / 2.9 / 2.7 Le / 100 km city / highway / combined
In Canada, the  C40 model range consists of three models: the Core – $59,950, Plus – $67,950 and a fully loaded model called the Ultimate grade, as tested which retails for $72,600 that includes all safety systems and driver aids, a heat pump, a 13-speaker stereo, and more.
Inside the cabin there is the usual Volvo design highlights of a  smart, cohesive, and ergonomically correct design, stellar choice of materials and high-quality fit and finish. The two digital displays dominate the dash and feature excellent high-quality resolution. The 12.3-inch instrument cluster also has a configurable layout. The infotainment unit has now been replaced by a 9.3-inch multimedia unit, which is easier to use than the previous Volvo Sensus display. The seating in all quarters are typically "Volvoesque," being very comfortable with good support for long drives. The C40 is packed with  all the technology and premium content  buyers could wish for. The rear cabin is spacious enough given the overall compact size. The rear cargo offers a maximum of 489.8 litres (17.3 cu ft). There is also a handy front trunk or "Frunk" as it is known in EV parlance. Towing capacity for  its size is not bad at  2,000 pounds (907 kg) when properly equipped.
As usual safety is a high point in any Volvo and  the C40 arrives with features such as the new Volvo Advanced Driver Assist System (ADAS) and more. ADAS provides collision mitigation with braking and steering assistance at low and high speeds, through a combination of visual, audible, and haptic warnings.
On the road, the C40 is nice to drive, with very quiet cabin, and a smooth pleasant demeanour. With a zero-100 km acceleration time of about 4.7 seconds, the C40 is very quick off  the line. Light and sharp handling reflexes are Also a  highlight. Also of note is the  C40's One Pedal Drive system where the driver can slow the vehicle by simply lifting off the accelerator pedal. and allowing the car to drift to a full stop. Its a boon at  stop signs, traffic lights, intersections, and  busy city roads. Pressing the accelerator again  gets the C40 going once more. The system can be deactivated  if the driver prefers two pedal driving.
To sum up  theC40 has  great looks, a cool interior, lots of power, excellent driving dynamics   and a whisper quite comfortable cabin.  Highly recommended if a premium European CUV is in your future.
2022 Volvo C40 Recharge Ultimate P8 AWD as tested price $72,600. Plus, freight and PDI at $2,015
WEBSITE: www.volvocars.com/en-ca