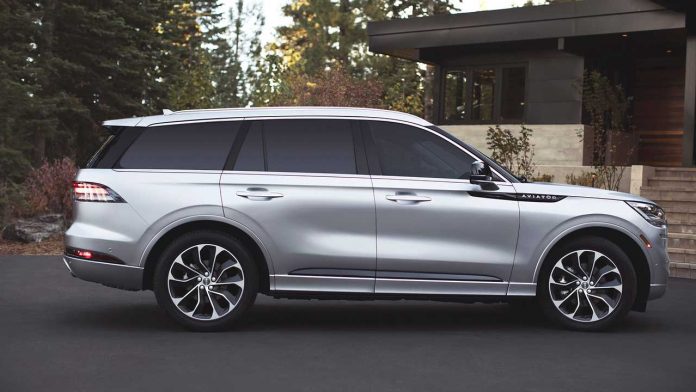 Autoreview by Veeno Dewan
The Aviator is Lincoln's re-entry back into the competitive mid-size luxury SUV segment, and  slots  in between the brands  Nautilus and Navigator, offering six or seven-seat three-row capacity, a rear-wheel drive platform, and for the first time in a Lincoln, a plug-in hybrid powertrain option.
It's hard not to call the Aviator one of the best-looking Lincolns in a while, the signature rectangular grill has a top-grade silver mesh finish, and there is a full width light bar at the rear. The look is sleek, yet pleasingly substantial with just the right amount of chrome trim, meaty fenders, and neat character lines.
The Lincoln Aviator gets some added bling with either 21 or 22-inch wheels, and plenty of luxury options such as: 30-way adjustable front seats with massage feature, soft-close doors, and a 28-speaker Revel Ultima 3D stereo system. And, not to mention a bundle of standard driver-assistance features and of course two versions of the semi-autonomous Co-Pilot360 system.
Buyers can choose a 3.0L turbo V6 engine with 400 horsepower and 415 lb-ft of torque, mated to a 10-speed auto transmission. The optional plug-in hybrid powertrain as tested includes a 100-hp electric motor and a 13.6-kWh battery, combining for 494 horsepower and KILLER 630 lb-ft of torque. Our Grand Touring  Hybrid model  was equipped with All-wheel drive.
Equipment wise, the Lincoln offers a 12.3-inch digital instrument cluster, a 10.1-inch touchscreen, satellite radio, a Wi-Fi hotspot, and Apple CarPlay and Android Auto capability- all as standard on the  Aviator. A smartphone's Bluetooth signal can be used to unlock and start the Aviator in place of the key.
Other options include the  Co-Pilot360 Plus adds adaptive cruise control, traffic-sign recognition, and a self-parking system that will steer the vehicle into both parallel and perpendicular spots. Key safety features are very comprehensive. Pricing for the 2022 Grand Touring hybrid weighs in at a base $85,300. plus, luxury and convenience option packs. Our Grand Touring tester cam in a final tally of $101,130 plus $2,395 for destination and delivery.
Our top- line   model   offered such niceties as:  the Luxury package with quilted Nappa leather seats and trim heated and ventilated first- and second-row seats, a heated steering wheel, panoramic sunroof, and active noise cancellation. There is the Premium 28-speaker Revel Ultima 3d stereo, 10.1-inch touchscreen infotainment with Wi-Fi hotspot and Apple CarPlay and Android Auto, four-zone automatic climate control, and interior ambient lighting. Creature comforts also feature a full rear center console, massaging front seats   head-up display, second-row centre console, and 22-inch wheel. Other options included: Lincoln lit star in grille, adaptive pixel led headlights, rear door sunshades, adaptive suspension with road preview, air glide suspension and the dynamic handling package.
Interior wise, Lincoln have really gone  to town! The dashboard is upholstered in genuine leather and stretches dramatically with a large touchscreen embedded into it. Acres of plush leather and gleaming wood coat the doors, center console and elsewhere. It really is one of the best SUV interiors I have seen for a while. The interior doors handles are replaced by magical soft close  push buttons- something you find only on the most expensive super cars.  The second-row captain's seats (a bench seat is also available) are also well upholstered and finished to a high standard. Access to the third row of two seats, is via folding the second-row seats.
On the road, the Aviator is no slouch, the twin-turbocharged V6 already produces an impressive 400 hp, and with the Plug- In hybrid  13.6-kWh battery and electric motor the final output is prodigious 494 hp. With a humongous  630 lb-ft of total torque, acceleration is super-quick despite the added weight of the hybrid powertrain. The Aviator can also run on pure electric power for about 30 km, before the gas engine kicks in, but is meant o support the gas engine really in low-speed situations, working with the gas engine, Overall Fuel economy is rated at: City10.9 L/100 km and Highway 9.6 L/100 km.  On road manners  are good. The Aviator rolls smoothly and handles well with minimal body roll. The standard all-wheel drive provides good traction on slippery surfaces. On road comfort is superb, second-row seats are also heated and cooled, and there is ample occupant room with a whisper quiet cabin.
To sum up, Lincoln has upped the game and gives buyers a solid domestic alternative to the German competition in this sector with its mix of premium features, luxury, and technology. Highly recommended as one of the best luxury hybrid SUV's around.
2022 Lincoln Aviator Grand Touring Plug-In Hybrid Price as tested with options – destination and delivery.   $103,525.
More info at Lincolncanada.com.
www.lincoln.ca