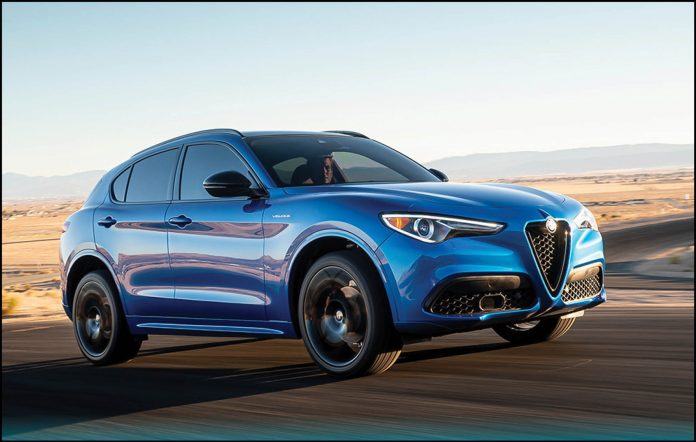 Review by Veeno Dewan
I have to say, its always a real pleasure to have an Alfa Romeo on test as an auto journalist, there is something so pleasantly visceral about how Alfa's sound and drive. So, I was mighty pleased to have a 2023 Alfa Romeo Stelvio Estrema AWD compact 5-door SUV on test. The new Estrema is a less inexpensive alternative to the pricy top- level Stelvio Quadrifoglio model. It offers unique Italian flair and the sporty driving experience expected from this legendary Italian sports car maker. Its size is comparable to rivals such as the BMW X3, Mercedes-Benz GLC-Class, and the Porsche Macan.
The 2023 Alfa Romeo Stelvio as tested is based on the Stelvio premium Veloce trim level and adds exterior and interior enhancements. There are also tweaks from a collaboration with Alfa Romeo's Formula 1 Team ORLEN.
The Estrema exterior has some cool clothes with carbon fibre veneer on the grille and mirror caps, plus dark "Estrema" badging on the fenders and rear panels. The B-pillar and side window trim are covered in gloss black, which blends into the side windows. Alloy wheels – 21-inch on the Stelvio Estrema are painted in gloss black. Behind the wheels, gloss black coloured brake calipers are branded with the Alfa Romeo script in white.
The Estrema's turbocharged 2.0-litre four-cylinder direct-injection engine delivers best-in-class numbers with 280 horsepower and 306 lb.-ft. of torque giving extra performance and top speed.. An eight-speed automatic transmission is linked to the standard Alfa Romeo Q4 all-wheel-drive system. The Driving dynamics technology from the high performance Quadrifoglio model, and Alfa Active Suspension are also added. The base price for our tester was not unreasonable $60,795 Optional equipment boosted the final tally to $73,010 including destination.
The Alfa Romeo Estrema includes a sporty, driver focused interior with as standard leather covered dash, steering wheel, centre armrest, shift lever and upper door panel coverings highlighted by red stitching. Carbon fibre accents , similar to the top Quadrifoglio trim, cover parts of the dash, doors, and centre console. Supportive, well- bolstered black leather sport seats hold occupants in place in spirited cornering and acceleration. Included in the spec is full power features , sporty dials, and a Harman Kardon premium audio system.
The interior of the 2023 Alfa Romeo Stelvio has sporty styling to match its exterior and performance but lacks some of the high-tech features found on rivals. The seating is pretty roomy in the Stelvio, but the seats are firm for long drives, although they have good lateral support. Rear seats are adequate, but cargo capacity is a little lacking with 18.5 cubic feet of cargo space behind the rear seats.
On the road, the Alfa Romeo Stelvio is a thrilling SUV to drive. The faultlessly tuned turbocharged 4-cylinder engine delivers ample power and torque with quick acceleration and a staccato exhaust note that is so thrilling to behold. The engine develops 280 horsepower @ 5,200 rpm and 306 lb-ft of torque @ 2,000-4,800 rpm with a fairly wide power band. The chassis and the tractable engine are composed in harmony with Alfa Romeo sedan like handling. Borrowing the the limited-slip differential and active suspension system from the Quadrifoglio means steering inputs are razor trimmed for superbly sporty performance driving. That responsive engine and well -honed gearbox enables quick acceleration times 0-100 km/h in 5.6 seconds. Yet the compliant suspension ensures a comfortable ride for sporty driving dynamics without too much jarring or extreme stiffness. Ride quality is in fact impressive for a sporty SUV with big wheels. The Estrema absorbs sharper bumps and road imperfections with aplomb. The advanced suspension technology quickly adjusts to different road conditions and terrain. Downsides are few and include the stingy cargo area and a lack of to-be expected technology features in this class.
Still, the Stelvio is an SUV to consider if you love the finesse an Alfa Romeo offers with its beautifully responsive engine, quick transmission, and wonderful handling. Excess road and tire noise is also not an issue.
If you must have more power, the more potent Stelvio Quadrifoglio model has a twin-turbo V6 engine with 505 horsepower and 443 lb-ft. of torque. Top draws for me include the unique sensuous porty exterior styling of the Stelvio and the sheer driving pleasure it brings. Also, in streets crowded to the gills with BMW's, Audi's, and Mercedes, the Stelvio will be a rare exotic beast that will have everyone looking. Simply wonderful if you want rafted Italian automotive gold.
2023 Alfa Romeo Stelvio Estrema AWD – priced from $60,795 plus options. Price as tested – $73,010.
More info at www.alfaromeo.ca