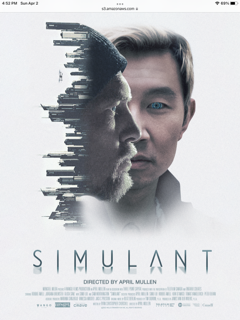 Strange Brew!
By Shirl Hollenberg
Welcome to paradise. Perhaps not. See the sparks fly as a future society unravels big time in the wickedly engaging Simulant. Embrace all the benefits and shortcomings of technology run amuck in This savvy engaging high tech thriller from Mongrel Media. Most impressive of all is that this movie was made by Canadians with an eye to the world market. Lucky for them they succeeded. You make the call by checking out this high stakes drama now showing at select Cineplex Cinemas and Landmark Theatres around B.C. before it makes its way to pay tv.
Shot in of all places Hamilton Ontario Simulant has that brooding somber atmosphere ideal for its subject matter. You see artificial intelligence is on the rise spearheaded by a mysterious mega corporation who has outfitted thousands of people with life-like androids able to do almost all chores humans can do. Perhaps even breeding! Spooky.
Love and relationships are at the heart of Simulant with sometimes those inanimate objects getting a bit too close to the real thing. This sets off a powder keg of emotions with one determined corporate agent to get at the bottom of a love loss. Sam the man Worthington brings all that pent-up Avatar anger and gravitas to the fore as an agent who is in the hunt for a lost love and some corporate terrorist who enjoys playing God at the expense of all those good housekeeping androids and their masters.
Smart writing and a great futuristic setting with good acting and tension galore make Simultant a creepy experience that is new, bold and vibrant. A positive mark o. hi e grown Canadian talent and creativity.