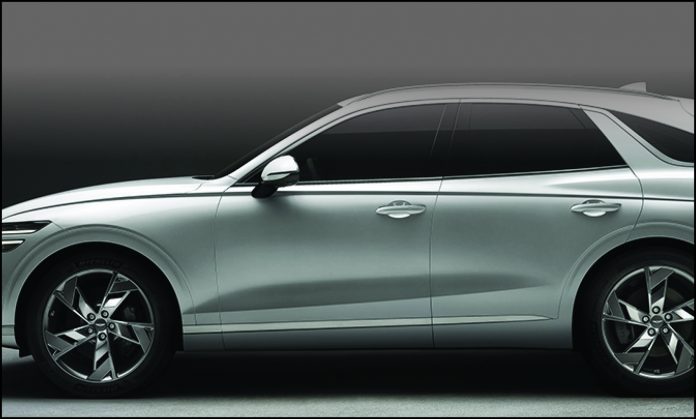 By Veeno Dewan
Korean luxury performance brand Genesis' increases its line up of fully electric powered SUVs with the new Genesis electrified GV70. It slots in between the compact GV60 EV and the GV80 EV. The Genesis electrified GV70 uses the EV powertrain from the GV60. The unique styling highlighted by a beautifully designed font and rear lighting design and a faux front grille that hides the charging port. The sleek looks remain with minor changes, exclusive 20-inch wheels and a redesigned rear bumper.
The GV70 Electrified arrives equipped with a 77.4 kWh lithium-ion battery, and an electric motor at the front and rear axles, with a claimed 383 km of fully electric driving range. Combined power is 429 hp and 516 lb-ft torque with a Boost Mode function that allows a heady 483 hp rush in a ten second burst. The GV70 e offers an impressive 0-100 km/h time of around 4 seconds through a single speed transmission.
The GV70e also packs an impressive electrical charging system that allows the vehicle to recharge from a claimed 10 to 80 percent in 18 minutes. No access to a fast charger? Charge time with a Level 2 charger takes about 7 hours. and with a 50 kWh Level 3 charger to 10-80% charge in just over one hour.
The GV70 interior as you can expect from the upstart luxury brand includes an attractive premium design, materials and Mercedes and Audi like attention to detail. Upon entering the cabin, there is a light airy feel and an air of opulence. The choice of materials is upscale, and the fit and finish are about on par with the best of German premium autos;. Lots of buttery soft leather Nappa draping the seats, high quality milled and knurled aluminum trim and high-quality switchgear and fixtures. The GV70 Prestige model as tested is also loaded to the gills with features such as Panoramic Sunroof, 14.5" high-resolution touch-screen navigation, 15-speaker Lexicon audio system, Genesis Connected Services, Head-Up Display, Dual zone Automatic Climate Control, Rear Seat Temperature Controls, and Nappa Leather Seats. There are also heated massaging Front and rear seats. The infotainment system is easy to navigate and the digital gauge cluster has a cool 3D effect. Overall cabin ambience is luxurious with enough room to stretch out in front and rear. Fit and finish is exemplary.
The EV has a rather small cargo space with 813 litres of space behind the rear seats and 1,601L behind the front seats when the rear seats are folded. The vehicle has all the safety you could want with Driver Assist systems such as highway driving assist that can automatically perform lane changes, and auto collision avoidance.
On the road, the EV powertrain is delightfully smooth and powerful whipping the GV70 instantly to high speeds. The electrified GV70 features a Boost button, which literally does "boost" the combined output of the motors to 483 hp for 10 seconds in a stunning whoosh of power- addictive!
There are several regenerative brake settings and a one-pedal driving function. The different drive modes have been well calibrated and there is a smooth seamless power delivery that is well metered out. There are multiple modes of brake regeneration, adjustable via the paddle shifters, and a dedicated mode allowing for one-pedal driving. Road handling and stability is well composed, as Genesis went for a slightly softer suspension for comfort, but there is tad inoffensive body roll on sharp cornering. The GV70e is a rather portly SUV thanks to its heavy batteries and EV hardware under the floor, but hustles along fairly well with no real issues.
Aside from rapid acceleration the GV 70e drives in everyday situation in a refined manner in near silence making for a relaxed luxurious drive. There are few downsides, the EV driving range could be better with 400 km now common in EVs , however its not terrible either.
Highlights include the stunning forward-looking design that is so unique and of course the Genesis buying experience. You do not need to haggle as Genesis has a fixed price structure with few additions and no hidden surprises and fees. Heck you do not even need to go to the dealership! Buyers can order a Genesis online; the car will be delivered to you for your test drive or if you deice you want it. The Genesis Concierge service will drop the car off and includes a pickup and drop off valet service for maintenance, and a courtesy car. You can organise this all from your armchair or desk. Genesis also includes a five-year/100,000 km of complementary scheduled service.
The GV70 Electrified is a stand out and comes highly recommended.
2023 Genesis GV70 Electrified: Base Price: $84,100
More info at www.genesis.com.