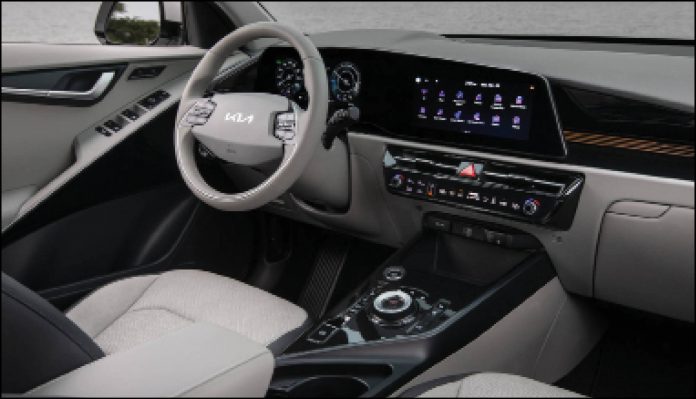 The Kia Niro series of five door hatchback compact CUVs is immensely popular in Canada , Best of all, in 2023 they come available in three electrified powertrains: all electric (BEV), plug-in hybrid (PHEV) and hybrid electric (HEV). Full disclosure – my wife did buy a full BEV Kia Niro in 2020 as our family car and it has done stellar service as our go -to transport, no issues with reliability, drivetrain, or quality we are happy to report- so I am a little
biased!
The new 2023 Niro is larger than its predecessor, with a stylish exterior redesign and a more generous suite of safety features. The Niro has a sleeker look to it and more interesting visual elements. It is aerodynamic with a wind cheating drag coefficient of 0.29. There are slimmer running lights, boomerang LED taillights and a rear skid plate garnish. Some models get the cool Aero blade rear panel on the rear side panels.
The all-new Niro EV has a 64.8 kWh battery and 150 kW motor with DC fast-charging capability and up to 407 kilometers of range ( An increase of 22 kilometers over the outgoing model).
The Niro HEV – arrives with DOHC 16-valve 1.6-liter inline-4, 104 hp, 106 lb-ft and 2 AC motors, with a (combined output if 180 hp and 195 lb-ft; plus the 8.9-kWh lithium-ion battery pack,) and a 6-speed dual-clutch automatic transmission
The PHEV as tested pairs the 1.6L gas engine with a 62-kW electric motor, for a total system output of 180 hp and 195 lb-ft of torque. When connected to a Level 2 charger, the PHEV, says Kia, can recharge the 11.1-kWh lithium-ion polymer battery in less than three hours. Fully charged, the all-electric range of the PHEV is up to 55 km and its fuel economy improved by 25 per cent over its predecessor.
Pricing is as follows HEV: LX $29,995, EX $31,995, EX Premium $34,695, SX $38,695.PHEV: EX $37,995 EV: Premium $44,995, Premium+ $47,995, Limited $52,995. At $37,995, the as tested PHEV comes only in a mid-range EX trim
Inside, the Niro cabin is pleasing with its contemporary intersecting gloss piano black surfaces and detailing. Durable plastics and recyclable materials are in use for the headliner made from recycled wallpaper, and plant fibre in the seats. A synthetic leather interior is offered. Top marks for a clear, well-designed digital with dual-screen digital displays for the infotainment system and gauges. The 4.2-inch Super Vision Cluster is paired with an 8-inch LCD audio display, or there is an available 10.25-inch Multi-Media Display with an easy-to-use graphic interface and split screen capability for multi-tasking of entertainment, navigation, and personalized settings. The seating both front and rear and the ergonomics are particularly good and of course the Kia even in base form comes with a bunch of high-tech infotainment and advanced creature features. Cargo capacity behind the rear seats increases to 1,805 litres with the rear seats folded. Safety is high with.
On the road the Kia PHEV offers enough power from the gas engine to tackle highway speeds with relative ease. Its small engine, so drivers should be aware it will not rocket like most Electric only EVS into passing manoeuvres. In town the PHEV steps up with easy drivability and jovial safe driving manners. Fully charged, the all-electric range of the PHEV is up to 55 km and then the transitions to the 1.6L gas engine is impressively seamlessness. There is a Drive Mode" button and the PHEV has a console button offering a choice of Auto, Hybrid, or EV power. Hybrid and the Sport mode lets drivers preserve battery charge for later use. The PHEV also has a left paddle that allows for higher levels of regenerative braking.
The Niro's suspension was a pleasant surprise, soaking up most rough road with aplomb. Of course, the Niro is no speed demon and is meant to be a practical daily driver that offers great efficiency, no matter which drivetrain is selected. In terms of fuel economy, the PHEV has a combined rate of 2.1 Le /100
km.
To sum up, there are advantages to the Kia Niro PHEV. It is ideal if you cannot spring for the pricier Kia EV, as the fuel economy and electric range is particularly good. There is compelling case for the PHEV if you do long-distance driving and suffer from range anxiety. Also note, the Kia PHEV is also eligible in B.C. for provincial and government green car rebates that sweetens the deal. The Niro's full range of EV and hybrid alternatives is simply an excellent range of vehicle to consider and compelling value for money. Highly recommended.
2023 Kia Niro PHEV Priced from $37,995.
More info at kia.ca
Auto review by
Veeno Dewan