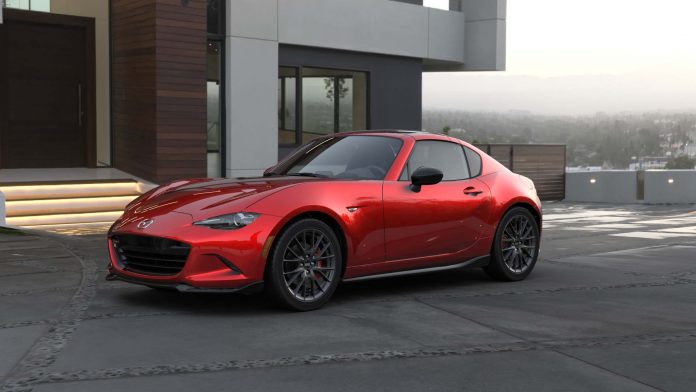 By Veeno Dewan
The Mazda MX 5 RF is a Targa roof version of the iconic MX-5 soft-top roadster. RF is short for retractable fastback. The main difference in the new RF is the rear upper part of the body that features dual flying buttresses, giving the RF an incredibly unique fastback, all in about 13 seconds and transforms the car from a swoopy coupe to a sexy looking "Targa."   Operate a switch inside the RF and the flying buttresses lift, the solid roof and rear glass slides back and down into a self-contained storage area, and the buttresses lock back down again. All this happens in about 13 seconds. The hardtop adds about 100 pounds to the cars weight – but with an almost perfect 50/50 weight distribution – performance is not affected too much.
Latest updates for 2023 are minimum, the powerplant features a 2.0-liter four-cylinder engine at a higher 7,500 rpm and 151 pound-feet of torque at 4,000 rpm. Maximum engine speed has been raised from 6,800 rpm to 7,500 rpm. Torque has been increased from low to high engine speeds, with faster response times for the engine. The RF is premium upgrade to the MX-5 and starts at base $42,900, for base GS-P Manual or automatic while the higher spec GT is $44,000 for either the automatic or manual transmission version. The transmission is either a six-speed manual transmission or a six-speed automatic gearbox.
We tested a 2023 Mazda MX-5 RF GT with the six- speed manual transmission model, with: SKYACTIV-G 2.0L DOHC 16-valve 4-cylinder engine, SKYACTIV-MT 6-speed manual transmission, sport suspension with Bilstein® shock absorbers, Limited Slip Differential (LSD), strut tower bar, LED headlights with signature lighting, LED Daytime Running Lights, LED rear combination lights, auto headlight levelling, auto on/off headlights, 7″ colour touchscreen display with Mazda noise compensation technology (including driver and passenger headrest speakers, and subwoofer). Advanced keyless entry system, air conditioning with automatic climate controls is also part of the spec.
The interior is snug and comfortable with well bolstered seats that allow for high-G maneuvers without sliding around. The newish Kinematic Posture Control (KPC), a software-based suspension performance technology development by Mazda that manages different vehicle systems to help provide MX-5 with improved precision and confidence in high-g cornering and behave as an  extension of the driver's body. Love the  white coloured eats, door panel and dash that add so much class to the interior! Two average-sized adults will feel good and the MX-5's interior highlights include simple, legible gauges and well-designed ergonomic controls that remains true to its roots with the focus on being a driver's car. Interior storage is tight, this being a small narrow car – there are two removable cupholders, a small center console/arm rest and a cubby hole under the bottom of the center stack that can take a phone or wallet. Sadly, the trunk is miniscule at only 121L cargo capacity. Take soft squishy bags!
The driving experience is so pure in the MX-5, that even novice drivers can carve corners with precision and skill. The steering is light and very responsive with excellent feedback. It is the epitomes of point and shoot driving. Despite the extra weight in the RF, I could not detect any drop in performance. The formula is delightfully simple and works. Beautifully engineered handling, a slick six-speed manual and a responsive four-cylinder engine providing adequate power. Enough said.
The combination of superbly matches engine, shifter, and chassis is simply wonderfully executed. The MX-5 RF is truly in its elements on winding   country roads, a day at the track or just blasting around with no place to go. It is so   small and light and instills any novice driver with confidence. Unlike more powerful, heavier, hairy sports cars the MX-5 RF is not overwhelming – and instills a more organic, joyful way of driving. Fuel economy is: (Premium Gasoline in L/100 km) is rated at: 9.0 city; 7.0 highway.
Downsides are few, the interior will be a tight for the larger bodied. I for one would err on the side of the Targa as opposed to the soft top. The hardtop offers security, its quieter inside, and the vibration-free cabin makes it an everyday car. Note, the RF is not a cheap option for what is an exceedingly small two- seater. Still, it is worth the money. If purist daily driving thrills are what you need – look no further than the RF. Simply Wonderful.
2023 Mazda MX-5 RF GT   MRSP Priced from $40,900 – $44.000 plus delivery, PDI and taxes.
Website: www.mazda.ca