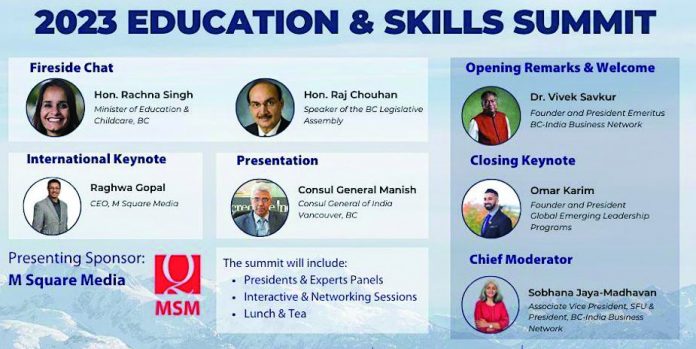 Vancouver – BC-IBN, GELP, and the Consulate General of India are hosting the Education and Skills Summit on July 21st from 12:30-5:30 pm at the Element by Westin, in Burnaby. Esteemed political, education and business leaders, along with students will come together to discuss Education in a Disrupted World and provide new perspectives to help chart new pathways for success.
At the Summit, there will be a fireside chat with Hon. Rachna Singh and Hon. Raj Chouhan.
The International Keynote speaker will be Raghwa Gopal, CEO of M Square Media (MSM), a top edtech company, and former CEO of Innovate BC. The Consul General of India, Mr. Manish will make a presentation on educational initiatives, opportunities and collaborations between India and BC. Omar Karim, Founder and President of Global Emerging Leadership Programs will deliver the Closing Keynote.
Dr. Vivek Savkur, Founder & President Emeritus of BC-IBN, stated, "We believe that education is the cornerstone of progress and societal development. Through this Summit, we aspire to create a platform where leaders, educators, and innovators can come together to reimagine education and skill development for a better future for all".
"The future of education and work is a critical topic we need to talk about candidly in order to transform educational systems in meaningful and sustainable ways. The Summit provides an inclusive and reflective platform to do just that," added Sobhana Jaya-Madhavan, President of BC-IBN.
The Education and Skills Summit aims to promote rich dialogue, collaboration and catalyse positive, proactive and progressive change in the education sector.
Register:
https://www.eventbrite.ca/e/bc-ibn-gelp-co-presents-education-and-skills-summit-tickets-660636630947