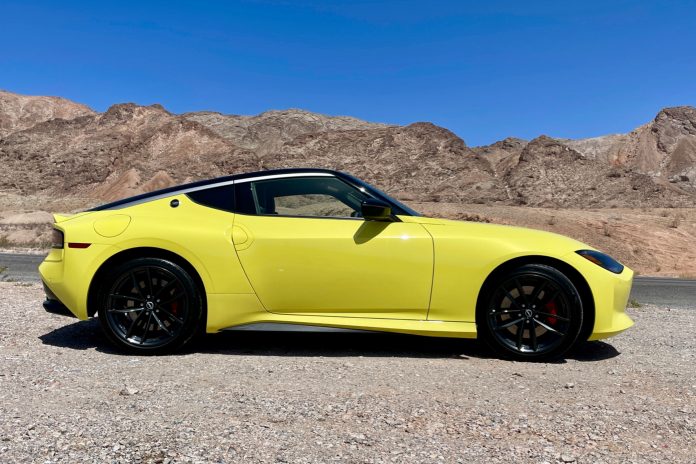 Review by Veeno Dewan.
The new 2023 Nissan Z sports coupe  completes its  50-plus years of heritage and continues to please global fans. The new 7th generation Z   design  still has the classic long hood, short deck low stance and a silhouette that pays homage to the first-generation Z.
The 2023 Z's 3.0-litre V6 twin turbo engine adds a significant bump in  power output over the previous generation 370Z. The Z's lines are sleek, clean, and devoid of the sometimes-ugly garish strakes, vents, spoilers, and wings slapped onto some modern-day coupes. Instead, it has a few tastefully  executed retro-modern design cues, with a cleaner front grille and a distinctively cool rear design with lights similar to the old 240 Z  version.   The interior pays homage to its DNA too with the iconic  three pod analog dashboard gauges that display the boost pressure, turbo RPMs, and battery voltage.
In terms of power, there is a significant increase with a V6 engine rated at 400 horsepower at 6,400rpm and 350 lb-ft of torque starting from 1,600 to 5,600 rpm. With an increase of 68 horsepower and a30 percent increase in torque, over the previous model, the  engine has an estimated 15 percent improvement in 0 to 100 Kph acceleration and limited top speed of  250 kph.
The transmission is either a choice of a 9-speed automatic or a more preferable   6-speed close-ratio manual transmission with SynchroRev Match® rev matching and an EXEDY® high-performance clutch.  For the Canadian market, the 2023Nissan Z will be offered in Sport and Performance (As tested) models, each with a choice of a 6-speed manual or new 9-speed automatic transmission.
The Nissan Z starts at $46,498 – plus a freight charge of $1,950. The  Z Performance model as reviewed, adds the rev-matching feature, limited-slip diff, and high-performance brakes, 19 -inch Rays alloy wheels and high – performance tires. Z Performance models equipped with a manual transmission also include an advanced launch assist control system for quicker off the line acceleration. But the prices rises to $58,498 plus freight and optional paint color,  A full range of convenience features are offered as standard equipment, with the Z Performance grade adding an  8-speaker Bose® Audio system with Active Noise Cancellation and Active Sound Enhancement.
The 2023 Z cabin is contemporary in design and form modern with a few well-integrated retro touches and modern technology. The cabin features high-quality  synthetic suede material, and  premium leather covered seats and steering wheel.  The centre stack takes inspiration from other previous Z version with the cool, iconic  three analog pod gauges on the instrument panel. There  is an  8.0-inch touch screen and audio display in the centre stack and climate control switches near the shifter.
On the road, the Z offers  very quick acceleration with maximum torque coming as early as 1,600 rpm. Turbo lag is minimal, it revs fast and  the  400 horsepower is delightfully metered out just eats up straight line roads , whilst the beefy brakes rein in for deceleration for  twisty back roads and fats tight curves with nary an effort. The engine's 400 horsepower is tractable and  a  jewel of an  engine. The  exhaust note  in the Z sounds fantastic being urgent, and raspy with a real crackle on startup.
The short throw shifter can be a shade notchy at first in the lower gear range , and you really have to be masterful in the beginning at snicking in gears solidly until you get a feel for the shifter. However, Nissan also installed an upshift indicator as found on pro race cars  as a shifter  guide. The clutch is fairly light and has some travel before you hit the biting point.   If you opt for the Performance trim, Nissan gives you the  auto rev-matching feature for even smoother, quicker applied manual shifts.
The new Z's steering is pin sharp and direct, the suspension well calibrated for sport driving and  the front four-piston brakes inspire confidence. The Z is an ideal track car when properly equipped with the right tires, but in  everyday driving exhibits good  road manners and a  not too harsh ride.
Downsides are few, The Z is a  tad thirsty on  fuel, and the Performance Upgrade is more expensive. Fuel Consumption (Combined ) is L/100km: 11.90. Starting at $46,498 for the Sport model with the manual transmission, it's one of the best bargains in the coupe market and will not disappoint in any way. The Performance version is the one to stretch for if possible. A superbly optimised quick agile  and fun to classic sports car.
2023 Z starts: at base price $46,498. Performance model as tested –   $59,448 plus PDE and freight.
More info at www.nissan.ca.