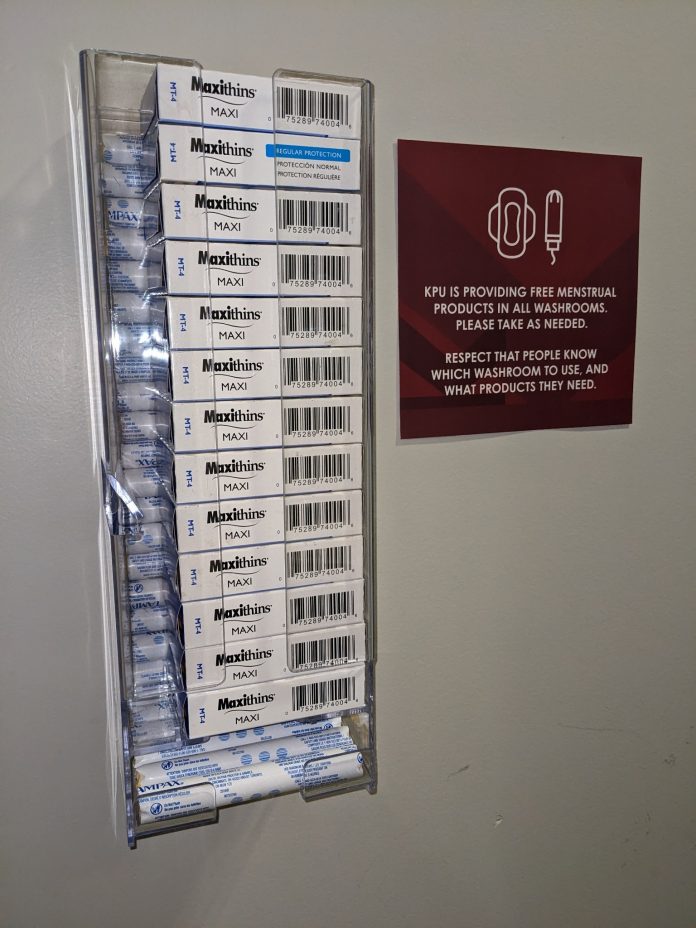 Surrey, B.C. – Kwantlen Polytechnic University (KPU) will be providing free menstrual products in washrooms across all its five campuses. Dispensers have been installed in first floor washrooms during the current pilot phase, with full implementation across all washrooms due in the summer semester.
The products can be found in dispensers in men's, women's, and universal washrooms across KPU campuses because trans, non-binary, and gender non-conforming people also experience periods.
"We wanted to make sure these were free of charge to anyone who needed menstrual products. We have signs accompanying the dispensers to make sure users understand that they are barrier free and available to everyone," says David Stewart, executive director, Facilities Services at KPU.
Previously, KPU had menstrual products available in the bookstore for a charge.
"Facilities Services initiated this project once the pandemic had subsided and through a collaborative effort was able to bring it to fruition," adds Stewart.
The initiative was developed in consultation with various groups at KPU, including the Pride Advocacy Group, Disability Inclusion Group and the Kwantlen Student Association (KSA).