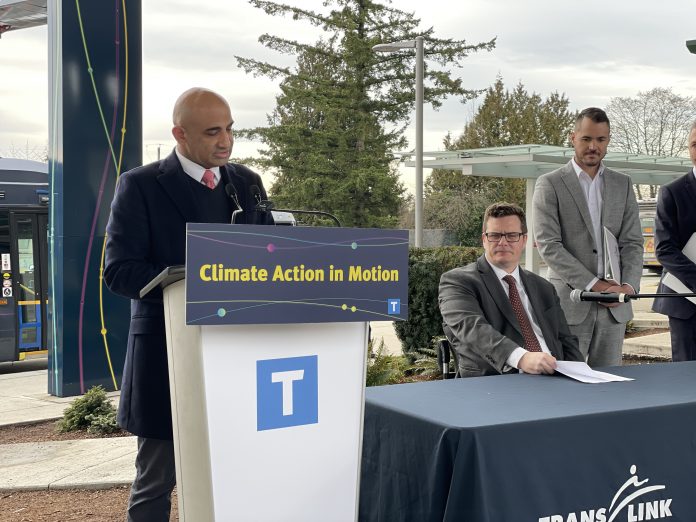 Parm Bains, Member of Parliament for Steveston – Richmond East, on behalf of the Honourable Dominic LeBlanc, Minister of Intergovernmental Affairs, Infrastructure and Communities made The milestone announcement celebrating the launch of a battery-electric bus (BEB) in New Westminster, British Columbia.  
The battery-electric bus can travel 150 km on a single charge, be topped up by on-route overhead chargers in approximately five minutes, and save TransLink around $40,000 in fuel costs annually. The bus is the first in a series of 15 that will fully electrify Route 100. Once in service, the 15 buses will reduce over 1,000 tonnes of greenhouse gas (GHG) emissions annually. The 15 new BEBs will expand TransLink's fleet from 4 to 19 buses by early 2024.  
Our Government remains focused on building a brighter future – a more prosperous, resilient, and sustainable Canada for our children and grandchildren. That is why we continue to take strong climate action, make life more affordable, grow our economy and create good, middle-class jobs across the country. 
16 million dollars of Canada Community-Building Fund (CCBF) funding, allotted through the Greater Vancouver Regional Fund, is expanding TransLink's battery-electric bus fleet. 15 new buses will enter into service, fully electrifying Route 100. The BEBs will reduce emissions and save on fuel costs. 
MP Bains Quote 
"The Canada Community-Building Fund has been helping communities address their infrastructure priorities for nearly 20 years. The expansion of TransLink's battery-electric bus fleet is an example of the positive benefits these investments provide. Our Government is proud to support projects that contribute to our emissions goals, and will continue to deliver CCBF funds across B.C. to help build cleaner and more sustainable communities."